President Donald Trump has known all along that the accusations that he'd colluded with the Russian government were fake, and this week's revelations that Hillary Clinton's campaign and the Democratic National Committee had paid for a dossier against Trump prove his point, press secretary Sarah Sanders said Thursday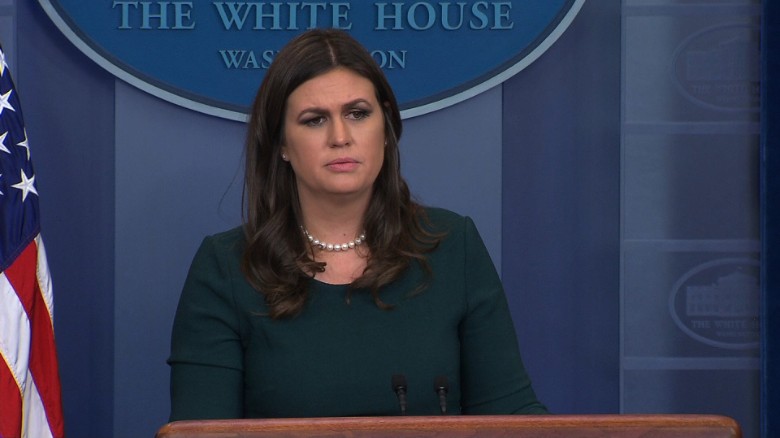 "I don't think he ever felt like he was on the hook," Sanders told Fox News' "America's Newsroom" program. "He has known all along that the accusations were a huge hoax, as we like to refer to it at the White House. One of the greatest political witch hunts of all time."
Further, she said, the accusations against the Clinton campaign prove "that if there was anyone that was colluding with the Russians to influence the elections, look no further than the Clintons and the DNC."
Their actions marked "hypocrisy at the highest level and a new low in politics," said Sanders, and "everything the Clinton campaign and the DNC were falsely accusing the president of doing the past year they were doing it themselves. It turns out it is a major scandal for the Democrats."
Clinton is also implicated in accusations concerning President Barack Obama's administration in connection with a deal with Russia that ultimately resulted in a government-owned business taking over 20 percent of the United States' uranium.
Trump on Wednesday said the uranium scandal is "as bad as Watergate," and Sanders agreed that it could be.
"The fact they were working with a foreign government taking in millions of dollars through the Clinton Foundation and giving over such a large percentage of that uranium while she was secretary of state, there is a lot of things that need to be looked at here," said Sanders. "I think a thorough review needs to take place. That's something way above my pay grade."
As a result of the two back-to-back scandals, Sanders said she thinks Trump has confidence that the probe into whether his own campaign colluded with Russia will wrap up soon, and "this is further evidence of why that should take place."
Sanders also discussed the upcoming tax reform negotiations, saying Trump is committed to protecting people's futures, and that includes whether 401K plans will be affected.
"He is committed to protecting people's future and protecting their retirement," said Sanders. "This is a president who really wants to make this tax plan and the tax cut very focused on the middle class and by doing that we need to make sure we are protecting their future and retirement accounts."
From the very moment Trump stepped into the White House, the leftist establishment and the media have been trying to undermine his election win by speculating that he colluded with Russia to steal the election.
Now after a year of Trump's presidency, with probes done on President Trump they have nothing to show for it. Not even one piece of evidence has been found with connections to collusion with Russia.
But, the media is still trying to propel this conspiracy theory all over the news like it is real. However, Sarah Huckabee Sanders responded, destroying all of them. Watch video below.
"I think he's known all along that the accusations are a huge hoax and one of the greatest political witch hunts of all time."
"I THINK THIS FURTHER PROVES IF THERE WAS ANYONE THAT WAS COLLUDING WITH RUSSIANS TO INFLUENCE THE ELECTION, LOOK NO FURTHER THAN THE CLINTON'S, LOOK NO FURTHER THAN THE DNC."
"This is hypocrisy at it's highest level and it might be a new low in American politics."
"Everything that the Clinton campaign and the DNC were falsely accusing the President of doing over the past year they were actually doing themselves, it turns out that this is a major scandal for the Democrats."
@PressSec: If there was anyone that was colluding with the Russians to influence the election, look no further than the Clintons, the DNC
She hit the nail right on the head! The Democrats investigated their crazy conspiracy theory against Trump and found nothing but their own crimes! How ironic!
Do you support Sarah Sanders? Share this with your thoughts and let us know in the comments below!